eSsense 130 Protein Skimmer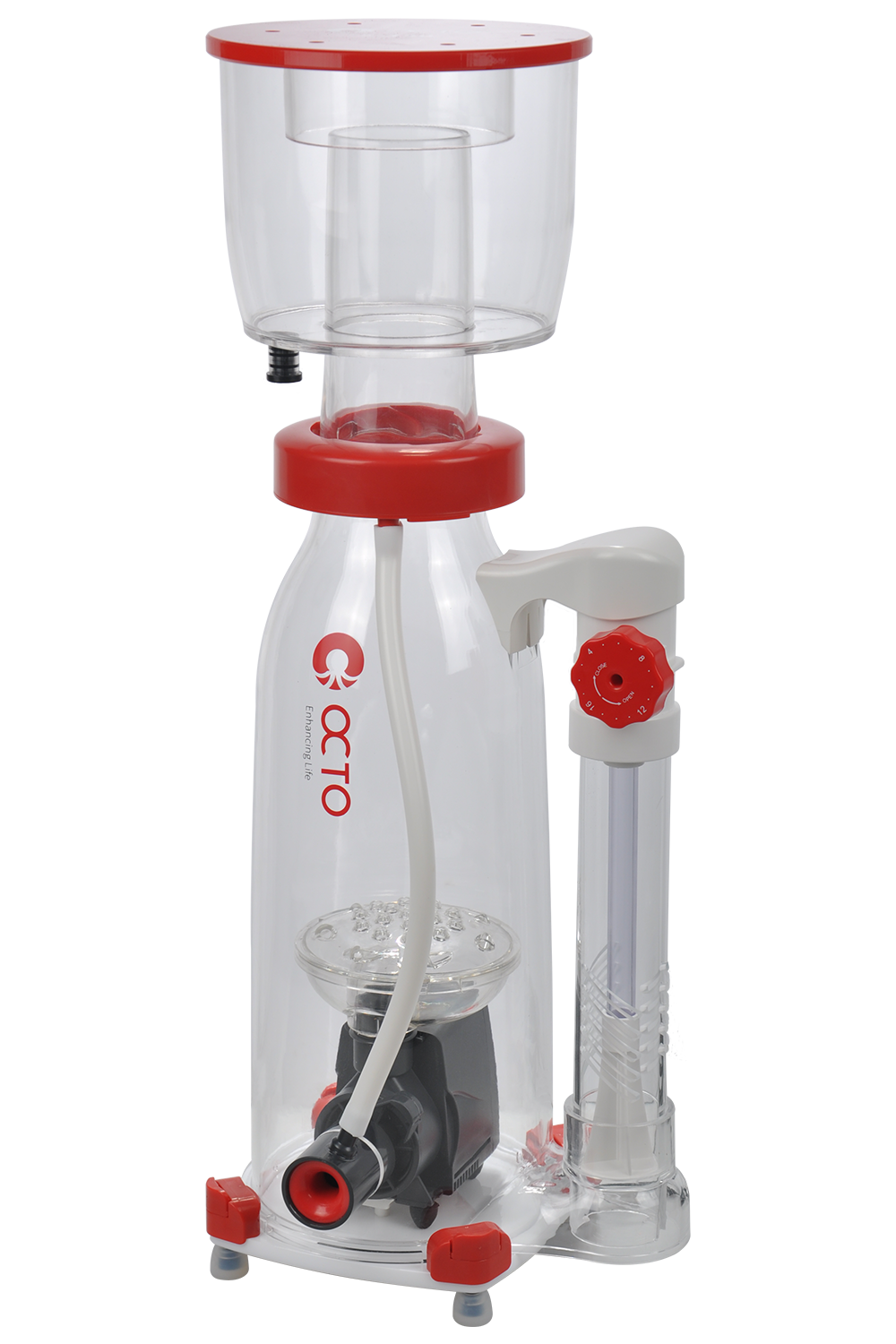 Product Name:OCTO eSsense 130 Protein Skimmer
Model/Type: Space Saving Skimmers (SSS)
Series: OCTO
Features & Benefits
Twist & Lift Collection Cup for Easy Maintenance

Quieter Operation with Integrated Detachable Silencer Collar

Dome Bubble Chamber with Angled Apertures for Extended Reaction Time

Quick Release Tabs Offer Convenient Access to the Inner Body

360° Submerged Water Output Provides a Quiet Splash-Free Discharge

Calibrated Click Dial Water Output Adjustment

Elegant Full Tapered Wine-Shaped Body

Remarkably Compact Footprint

Quiet , Reliable and Efficient AQ Pinwheel Pump

Warranty:2 years*

2 years - Pump motor only

1 year - all other parts
Overview
Loaded with InnovationsOver 10 years of cumulative experience in the design and manufacturing of Skimmers, our eSsence-130 are loaded with innovative human centric features.
12% quieter than Skimmer of the same capacity due to its Integrated Silencer build into the Skimmer's Neck. Couple with a Twist and Lift design, this enable the User to quickly detach the Neck from the Skimmer's Body for easy and quick maintenance.
16 Step water outlet adjustments to ensure that fine tuning of water output adjustments are possible. Design with special slanting cut grooves to ensure an even outflow which minimises splashes.
25 Angled Grooves + Apertures on the Bubble Plate for maximising constant micro air bubbling, with a Vortex churn effect which extends reaction time.
4 Quick Releases at the Base Plate of the Skimmer allow User to quickly and conveniently access the inner body of the Skimmer, no Screwdriver needed.
Warranty (against manufacturing defect):.
2 years* – pump motor only.
1 year – all other parts.
What's included
OCTO S-130
Article Code
Items
Model No.
Qty
A
Cover
-
1
B
Collection Cup
-
1
C
Neck
-
1
D
Skimmer Body
-
1
E
Bubble Plate
-
1
F
Bubble Plate
-
1
G
Adapter
-
1
H
O Ring
22X2
1
I
Air hose
-
1
J
Venturi
-
1
K
Fastener
-
4
L
Screw
M6*18
5
M
Silicone Feet
-
4
N
Pump holder
-
1
O
O Ring
17*2
1
P
Skimmer pump
AQ-1800S
1
Q
Wire Sleeve
-
1
R
Skimmer Base
-
1
S
Plug
-
1
T
Drain Outlet
-
1
U
Holder
-
1
V
Adjustable Valve
-
1
W
Water Outlet Pipe
-
1
Skimmer
Product
Wet Dry
Pump Power
Cup Diameter
Neck Diameter
Footprint
Height
Output Size
Tank Volume
W
W
mm
inch
mm
inch
mm
inch
mm
inch
L
Gal
50HZ
60HZ
S-130
Wet
10
11
140
5.5
60
2.4
210
175
8.2
6.8
520
20.5
ø40mm (1-1/4″)
600
132
Skimmer Pump
Product
Model No.
Wet/Dry
Air Intake
Power
Maximum Flow Rate
Connection Size (outlet)
50HZ
60HZ
50HZ
60HZ
50HZ
60HZ
LPH
GPH
LPH
GPH
W
W
LPH
GPH
LPH
GPH
S-130
AQ-1800S
Both
480
106
511
112
10
11
530
117
530
117
ø25(3/4″)