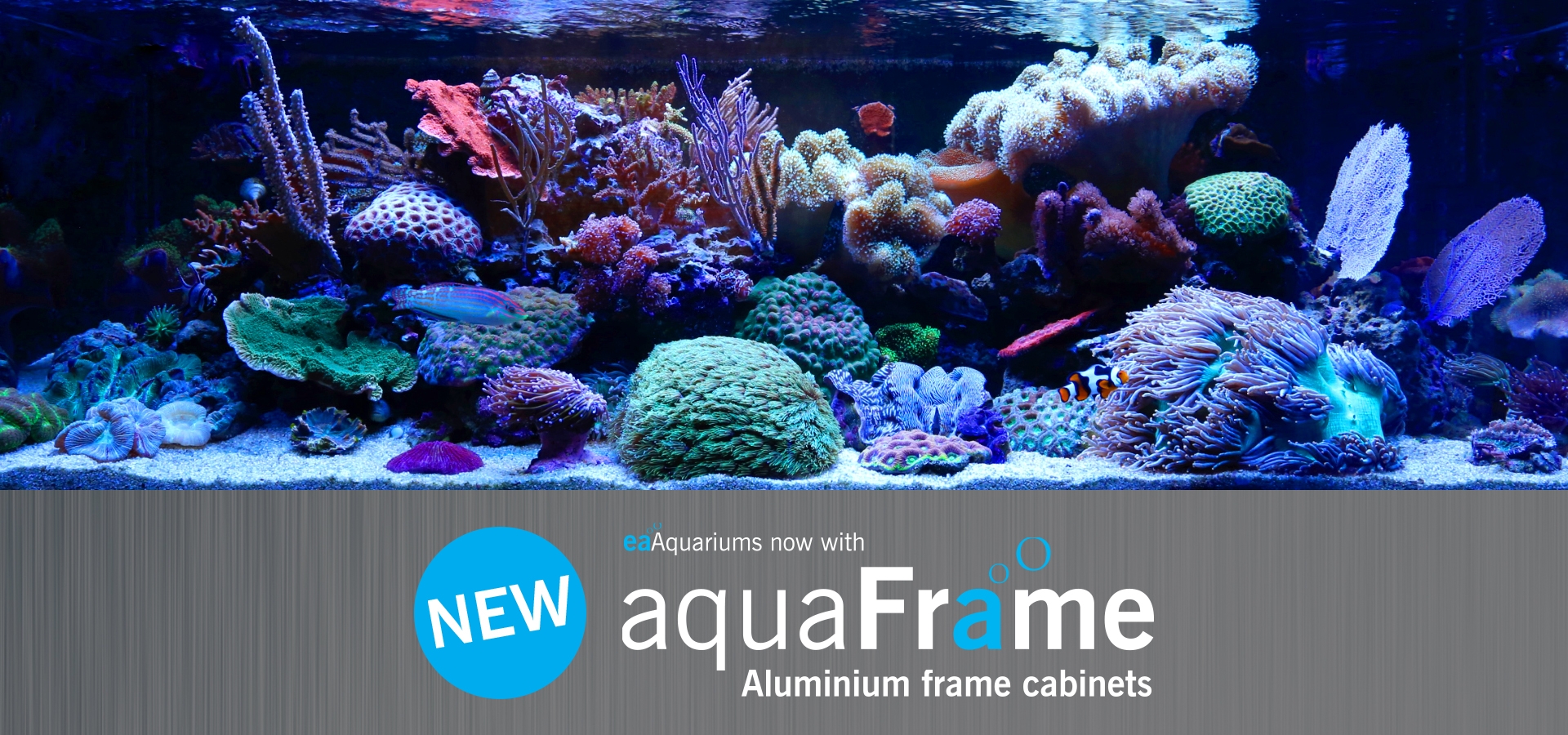 Advanced reef aquarium and sump range
Now with AquaFrame aluminium frame cabinets, eaReefPro aquariums from Evolution Aqua combine style and quality, luxury and practicality. Choose from one of five models; eaReefPro600SCube, 900S, 1200S, 1500S, or 1800S, and in any of the 16 premium cabinet colours and finishes. Add your choice of equipment for the ultimate in flexibility.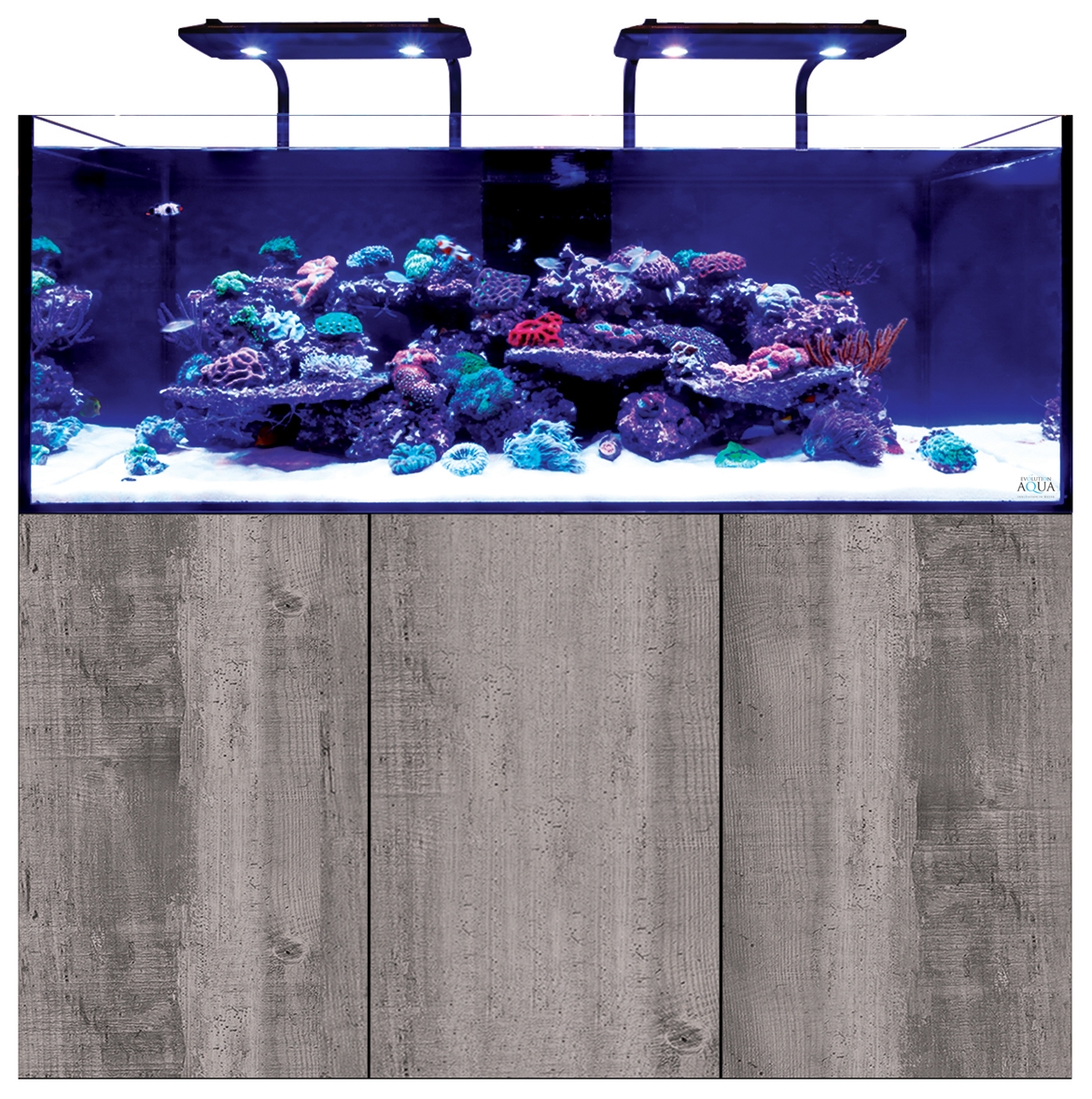 Overview
Every eaReefPro aquarium uses the finest quality, thickest low-iron glass for enhanced safety and viewing, as well having black background, black central weir, removable weir comb and rigid pipework as standard.
The eaProSump sets the standard for design and flexibility, including market-leading top-up reservoir volumes, multiple chambers to accommodate skimmers, reactors and algae refugiums, and height adjustable sump baffles.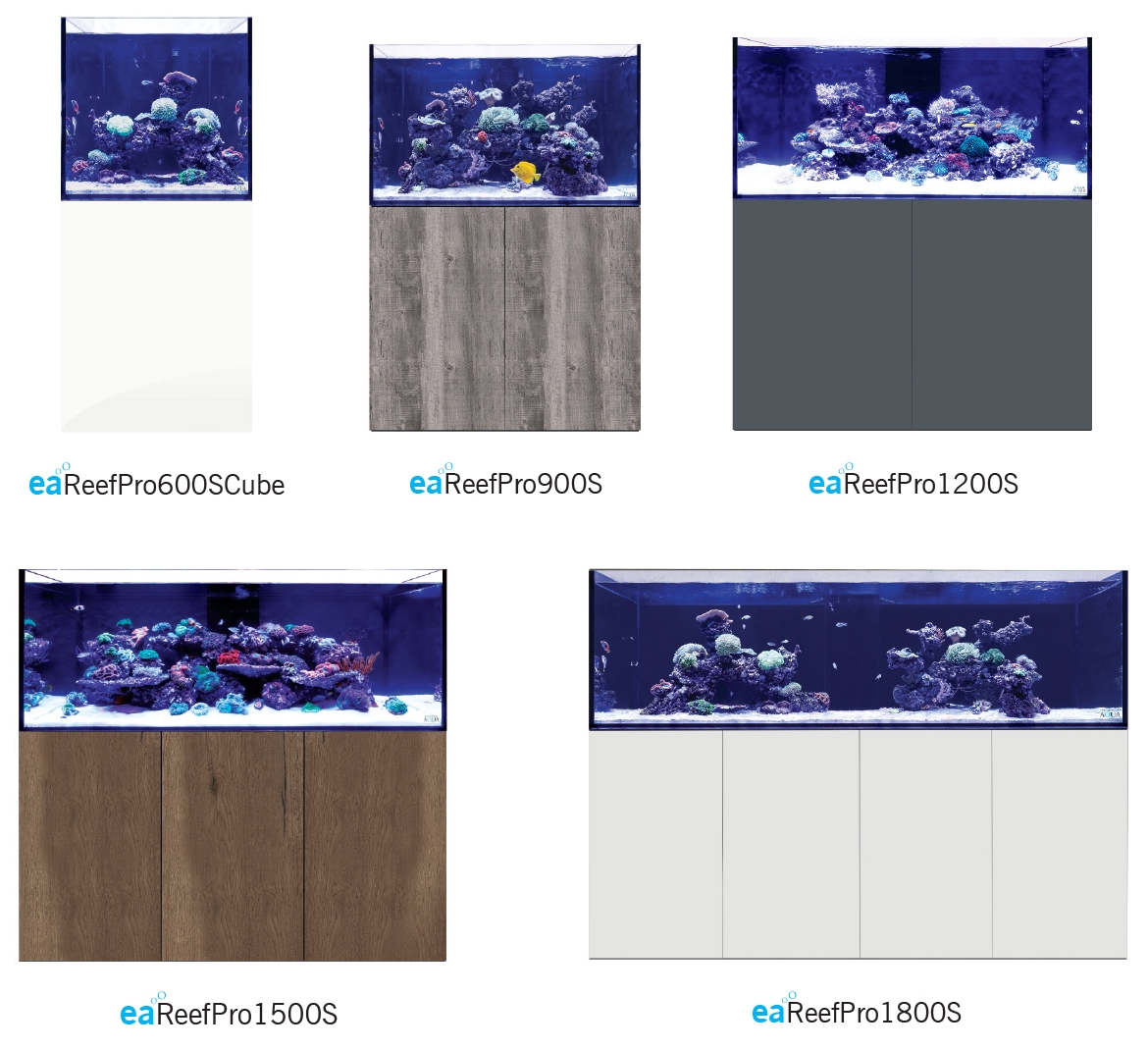 NEW AquaFrame cabinets
Every eaReefPro aquarium is now supplied with an easy to assemble AquaFrame aluminium frame cabinet.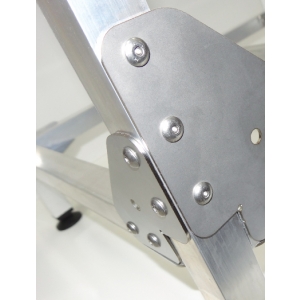 Low-iron glass
Every eaReefPro aquarium is made from highly polished, low iron glass, and built from 10, 12, 15 or even 19mm glass for the ultimate in safety. Flawless black background and pre-fitted foam base mat come as standard.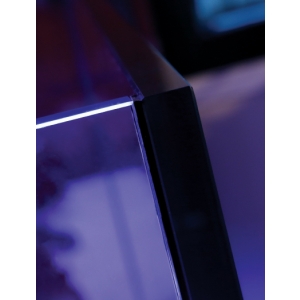 Black silicone
Skilled craftsmen hand build every eaReefPro aquarium, producing the neatest, most uniform, silicone seal. The reefscape inside is protected by a perfect, waterproof seal, framing the vista, while not detracting from it.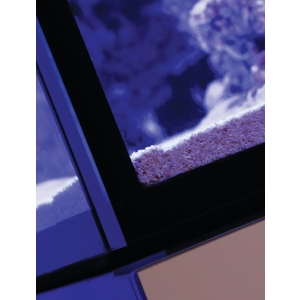 Discrete central weir
The central weir enables uninterrupted viewing from the left or right side of the aquarium and disappears seamlessly into the background. Made from strong black glass, the weir comes with removable acrylic comb.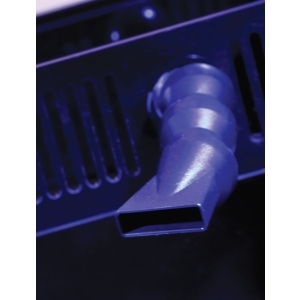 Proven design
eaReefPro runs a "Herbie" style pipework configuration, enabling large water flow through, fine adjustment, yet near silent operation. The all-important emergency overflow standpipe is also included with every model.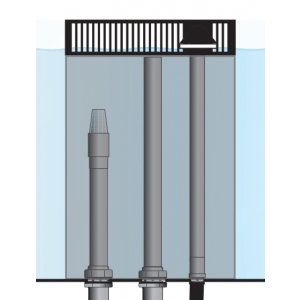 Rigid pipework
The seasoned reefkeeper's choice, eaReefPro comes with strong, rigid pipework, including true double union ball valve and bulkheads with rubber gaskets, enabling quick hand fitting and no need for additional sealant.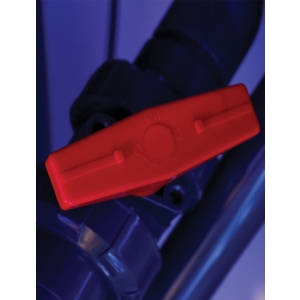 Advanced sump
The glass / acrylic hybrid eaProSump enables exact water level height adjustment. Every model has four chambers to separately accommodate protein skimmer, reactor or refugium, return pump and auto top-off device.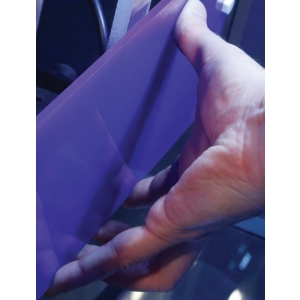 Click on the logo for model specifications

NEW AquaFrame - Aluminium Frame Cabinets
All Evolution Aqua aquariums now come with brand new AquaFrame aluminium frame cabinets with EazySwap cabinet panels.
The easy to assemble frames are made using corrosion resistant, aircraft grade aluminium and are manufactured using industrial strength fittings to ensure the cabinets have maximum stability and are built to last. The frames are partially assembled in our factory using riveted construction techniques to enhance the sturdiness of the cabinets. Because large sections of the cabinets are pre-assembled the amount of self-assembly is kept down to a minimum, with only an allen key needed to put the cabinets together.
Choose from 16 modern, minimalist or rustic, matt or gloss, colourful cutting edge finishes. The choice is yours. And if you ever feel the need to change the colour of you cabinet you can do so with ease, thanks to our EazySwap cabinet panels. 
Every eaReefPro cabinet comes to you complete with both push-open and soft close doors and quick release, triple adjustable door hinges.
Other features include:
- Frames are made from aircraft grade aluminium
- Simple to assemble from flat pack
- Choose from Evolution Aqua's contemporary cabinet finishes
- Corrosion resistant, partially assembled frames
- Adjustable feet, fully waterproof base board
- Industrial strength fittings
- Manufactured in the UK
.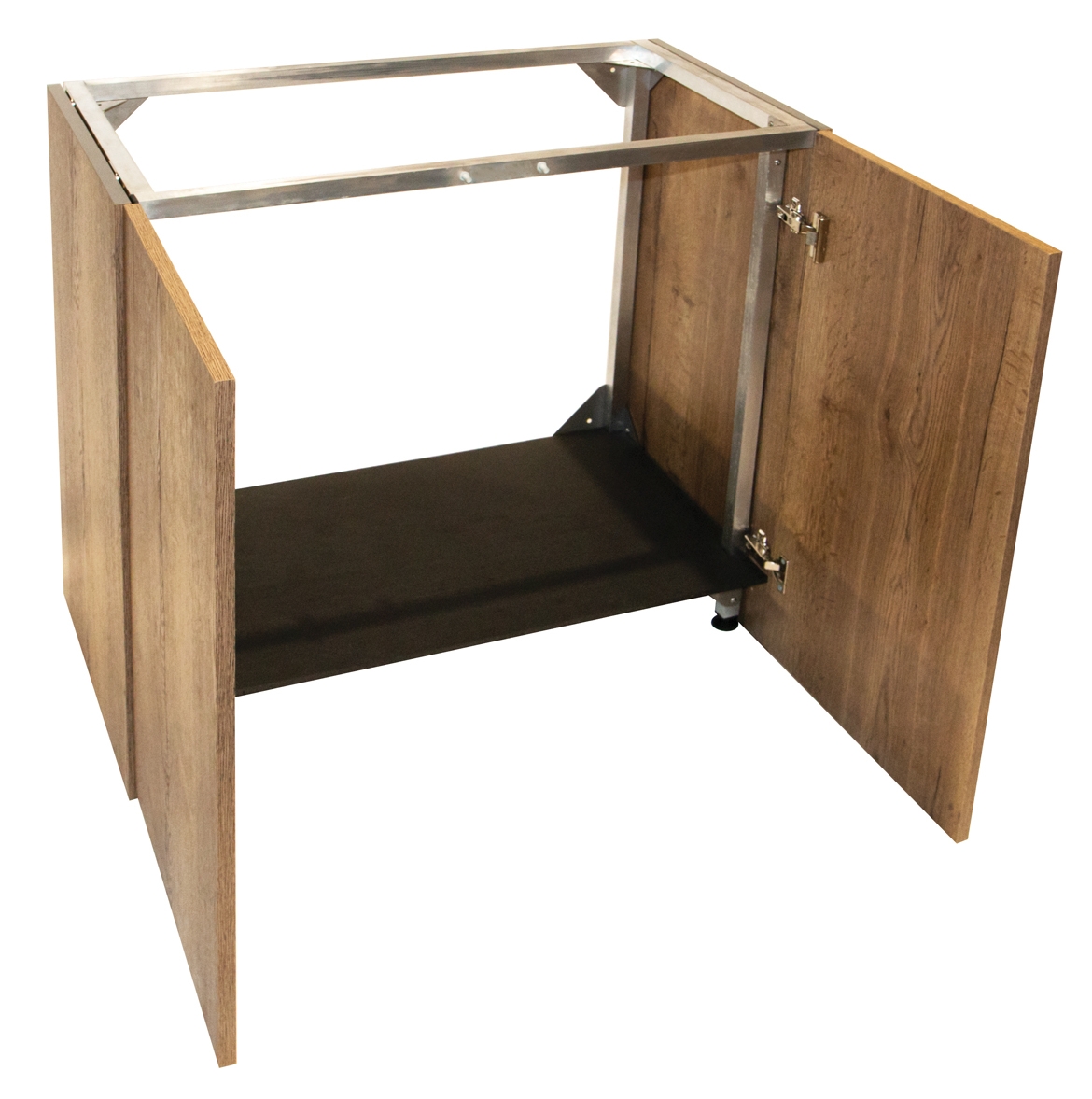 Choose from 16 cabinet finishes